Whidbey Audubon Society
Upcoming Events
Unusual Bird Sightings and Special Points of Interest
---
Reporter's name: Patty Blouin

Sighting Description: Yellow rumped warbler. First spotted him yesterday trying to eat from hummer feeder, he returned to day doing the same thing.

Location: Whales run, coupeville

Confirmation: Confirmed by Al Lunemann

Date and time: 03/25/17 around 7 pm

Above comment submitted Mar 28, 2017

---


Reporter's name: Joe Sheldon

Sighting Description: The Russian biologist, Vasilly Baranyuk, coordinating the Snow Geese research on Wrangel Island, Russia -- the geese that overwinter in our area -- will be speaking Saturday March 25, 2017 at 3 PM at the Padilla Bay Interpretive center, Bay View, WA. He previously spoke with his Washington State counterpart at a Whidbey Audubon membership meeting. This is an excellent opportunity to hear an update on the status of the population.

Location: Padilla Bay Interpretive Center

Date and time: 3 PM Saturday March 25

Above comment submitted Mar 24, 2017

---


Reporter's name: Robert York

Sighting Description: Observed close to 50, confirmed 43, Great Blue Herons depart a stand of Doug Firs adjacent to Highway 525, cross the highway towards Greenbank Farm. They flew to a seasonal pond near the solar panels, waded for about 3 minutes, then returned back across the highway to the trees. What a sight!

Location: Greenbank Farm

Date and time: 3/16 at 5:53 PM

Above comment submitted Mar 16, 2017

---


Reporter's name: Dave Parent

Sighting Description: FOY Wood Duck at Earth Sanctuary. Heard from the road in the pre-dawn light.

Location: Earth Sanctuary

Date and time: 3/16/17 5:45am

Above comment submitted Mar 16, 2017

---


Reporter's name: Steve Ellis

Sighting Description: First Violet-green Swallows of the year: a flock of 4-5 swirling overhead, calling in the sunshine.

Location: Coupeville M& H/School

Date and time: 3/16 9:45am

Above comment submitted Mar 16, 2017

---


Reporter's name: Jay Adams

Sighting Description: The adult male Mountain Bluebird reported by Joe Sheldon at Pacific Rim Institute yesterday was seen again today. The bird was first observed on the PRI grounds near the Route 20 end of Morris Road. It flew northeast from there, stopping to perch along the way, until it disappeared from view. Although we tried to track it down for additional views, the bird was not seen again.

Location: Pacific Rim Institute, Parker Road, Coupeville.

Date and time: 4:25 p.m., March 15, 2017

Above comment submitted Mar 15, 2017

---


Reporter's name: Joe Sheldon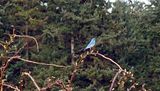 Sighting Description: Mountain Bluebird at Pacific Rim Institute on 3.14.2017 about noon and again at 5:15 PM. Bird was perched on elderberry shrubs in the open prairie area about 300 yards north of Morris road. Also seen to the east near the bee hives. Photo posted in photoBucket.

Location: Pacific Rim Institutte

Confirmation: This is a rare bird. Photo posted.

Date and time: 3.14.17 at noon and again at 5:15 PM.

Above comment submitted Mar 14, 2017

---


Reporter's name: Janet Paul

Sighting Description: This is not a sighting but, rather, a report of hearing what I think is a Northern Saw-Whet Owl. We have heard a strange noise which we first thought was some sort of alarm at night for at least a week. I call the Wild Birds store today and they suggested I look on-line at the information from the Cornell Lab of Ornithology which I did. From that information with its recordings, and a description that the call sounds like an alarm and may go on for hours (which it does),I do believe that it is a Northern Saw-Whet Owl.

Location: Holmes View Drive

Confirmation: Evidently Northern Saw-whets are seen (heard?) occasionally on Whidbey.

Date and time: I'm sending this on March 13th and we have been hearing the sound for at least a week.

Above comment submitted Mar 14, 2017

---


Reporter's name: Ruth Scrivner

Sighting Description: First Rufous Hummingbird ( male) on my feeder at Dugualla Bay.

Location: Jones Road Oak Harbor

Date and time: Mo. march 13th at 9:50 am

Above comment submitted Mar 13, 2017

---


Reporter's name: Margi Hartnett

Sighting Description: Very large black woodpecker-like bird pecking away at my suet. Didn't know what it was at first, so kept studying it. It was definitely a Northern Flicker, but black with faint markings showing through. When it flew off, I saw some red tail feathers. My best guess is a melanistic Red-Shafted Northern Flicker.

Location: Off of Campbell Road

Date and time: March 12, 2017, at around 7:30 a.m.

Above comment submitted Mar 12, 2017 Since you say the woodpecker was very large, could it have been a Pileated? There is a photo of a melanistic flicker at https://sora.unm.edu/sites/default/files/journals/nab/v060n02/p00306-p00306.pdf Does that look like the bird you saw? Apparently, this is a fairly rare sighting. It would be good if you could get a photo if the bird returns.

---


Reporter's name: Linda Bainbridge

Sighting Description: I hope this isn't unusual, but it was great to see. About 50 Common Mergansers were roosting on a dock on a section of Holmes Harbor near Honeymoon Lake, and several more were in the water.

Location: On Holmes Harbor near Honeymoon Lake.

Date and time: March 11, 2017 at 4pm

Above comment submitted Mar 12, 2017

---


Reporter's name: John Schuster

Sighting Description: At 11:30 am 3-6-17 a Male Rufous Hummingbird came to one of our feeders in Freeland. He spent 3-4 minutes at Feeder. First Rufous this year but many Anna's.

Location: Goss Ridge RD Freeland

Date and time: 11:30am 3-6-17

Above comment submitted Mar 6, 2017

---


Reporter's name: Cathy Casey

Sighting Description: I saw an Anna hummingbird pulling nesting material out of my cottontail ball last Friday, March 3. Thought I heard their little chatter a few days before that!

Location: Near the Pheasant Farm

Date and time: March 3 in the early afternoon

Above comment submitted Mar 5, 2017

---


Reporter's name: Traci York

Sighting Description: A Hermit Thrush caught my eye from my back window on Wednesday afternoon. It shook it's feet around in the grass, then plucked insects as they flushed! At first I thought it was a Swainson's, but it had a distinct eye ring and the foot shake gave it away. I took a video clip if interested. [Editor: check video in PhotoBucket Preview]

Location: NW Broadway St. Coupeville

Date and time: March 1 @ 3:15

Above comment submitted Mar 2, 2017


---
Full Web Page